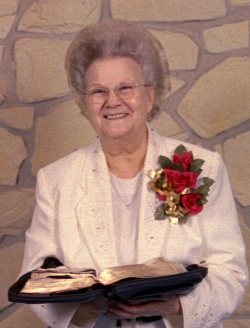 Bishop Ruby E. Kile (1972-2008)
The Late, Bishop Ruby Kile, presided as Pastor, President, and Founder of Faith Temple, Inc. located in Birmingham, Alabama until her death. She had been a member of the Full Gospel Fellowship of Churches and Ministries International for 33 years. She accepted her call in the ministry at the age of 32.
Pastor Kile worked on the evangelistic field for three years. She worked in Faith Temple Church in South Bend, Indiana for five years and the Christ for the Nation's Church for two years. Led by   the spirit of God, she and her family moved to Shreveport, Louisiana in 1968 and there she pastored the Tulsa Street Holiness Church for three years.
In 1972, she accepted an invitation to preach a Revival at Powderly Faith Deliverance Center in Birmingham, Alabama. During the course of the Revival, Rev. Johnson asked her to become his Assistant   Pastor. Rev. Johnson's health was failing and so Pastor Kile assumed full pastorship at his death. She later changed the name of the church to Faith Temple, Inc.
ACCOMPLISHMENTS:
October 19, 1945, Pastor Kile married the late Clarence Ray Kile. They   had three children; Barbara Mathews, the late-Phyllis Holmes, the late- Clarence "Rick" Kile, two son-in-laws; John Mathews and David Holmes, one daughter-in-law;   the late- Allison Kile, three grandchildren; the late-Charles Ray, Rene, and Tracy, six greatgrandchildren; Harley, Jada, Curtis, Chase, Brandon, and Bailey.
She was ordained in the Full Gospel Fellowship of Churches and Ministries International in 1969 by the late Dr. Lester Summerall.
In 1969, she also visited the Holy Land in Jerusalem and received the award for Recognition of Accesstation of Pilgrimage of the Holy Land from the Mayor of Jerusalem in 1970.
In 1978 , she began groundbreaking for the new church building and completed it in 1984.
In 1992, the Outstanding Humanitarian Service Award was given to her from the AME Church .
In 1994, she received an Honorary Doctorate of Divinity from the Pentecostal Bible College of Tuskegee, Alabama.
In 1997 she received a 25 Year Silver Certificate from the Full Gospel Fellowship of Churches and Ministries International for her faithfulness in Ministry.
In the year of 2001, she received numerous awards and recognitions from the many Auxiliary Ministries here at Faith Temple Inc.
In the year of 2002, she was Ordained Bishop at Faith Temple Church and overseerer of three different congregations in the Alabama area.
On February 27th, 2008, She received her greatest Reward; passing from this life to life everlasting with her Lord and Savior Jesus Christ! She is greatly missed and we will honor the labor of her hands always.
In Christ,
Faith Temple Church Family